Evolve Architecture was Established in the Year 2006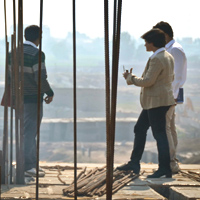 Evolve Architecture is an Architecture Consultancy firm based in Panchkula near Chandigarh. We firmly believe in the power of Good Architecture in a celebration of the human spirit and that Good Architecture is never an accident.
We have a dedicated team of well qualified and trained professionals at EvolveArchitecture and a network of Associate Engineers and Contractors who help us and are our partners in all our achievements.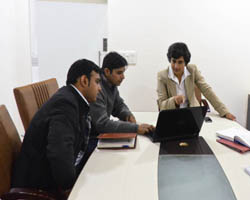 Within 7 years of inception Evolve Architecture has an impressive portfolio of completed And under construction Projects, ranging from Residences, Farmhouses and Multistoreyed Housings in the Tricity to Public Buildings like Commercial Complex at Patiala, DFCCIL office at Ambala Cantt, New Entrance to Chandigarh Railway Station and the Recently completed and highly applauded Driving Range at Chandimandir Cantt. which was also our Turnkey Project.
We enjoy diversity of challenge and each project is considered a unique opportunity to learn and to evolve.
We are actively involved with academics. Ar. Shilpa Das is currently part of the visiting faculty for the subjects – Art and Architecture and Architectural Designs at the Chandigarh College of Architecture. She is also being formally assigned as thesis guide for two final year students of Chandigarh College of Architecture.
We also team up with nation and international architectural firms who undertake projects in Tricity. For example we are currently associate architects for HCP for their project for NABI (National Agri - Food Biotechnology Institute), which is an autonomous institute of the Government of India, located in the Knowledge City at Mohali, Punjab.
Principal Architect and Proprietor – Ar. Shilpa Das