TURNKEY PROJECTS
The desire to see a project conceived by us right upto completion, executed to our own high standards, is the main reason for EVOLVE ARCHITECTURE to branch out into this field of service.
RESIDENTIAL FOCUS
We have specialized our TURNKEY services to cater to the requirements of our Residential Clients who due to their various engagements or preferences are unable to undertake the process of constructing their house by themselves. Under the traditional Turnkey Contract, the Owner agrees to pay the developer, to complete a project that is built to the Owners specifications. The owner is given many opportunities to make decisions throughout the project, and to make changes as needed. In a Turnkey Contract, the owner is generally left out of the building process entirely as the developer handles all decisions and problems related to construction. The developer completes both the construction and the finishes in the home before turning it over to the homeowner, in a ready to use condition. We offer a custom-made contract for each of our Residential Clients keeping in view their preferences.
SPECIALIZED PROJECTS Certain specialized projects designed by us, that need extra care and attention in their execution feature next in our list for TURNKEY execution. These could be an Architectural or an Interiors Project that is our own design.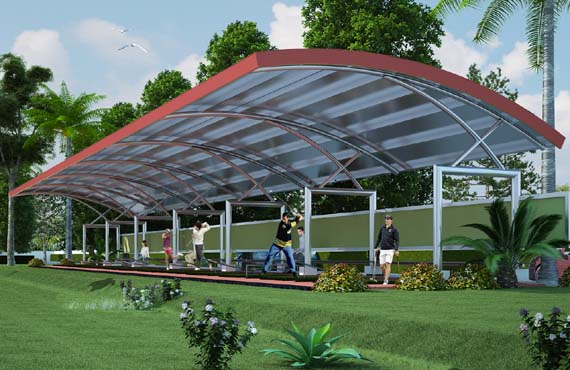 The DRIVING RANGE at Chandimandir Cantonment designed and built by EvolveArchitecture, for the golfing fraternity of SEPTA has been a recent feather in our cap.